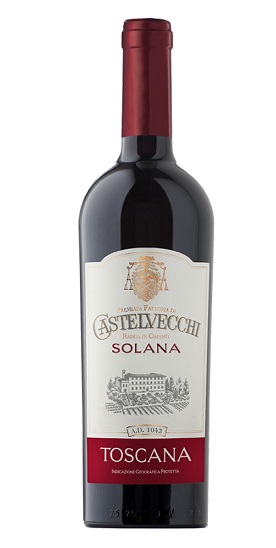 Toscana IGP Solana 2015
In vineyard
Produced only in the best vintages, Solana borns in a unique terroir for its microclimate and soil characteristics, located at 500-600 meters above the sea level. This wine is made with 50% Sangiovese, 25% Merlot and 25% Syrah grapes, obtained from a reproduction by selection of vines.
The grapes come from the historical grape varieties of Sangiovese and Merlot, which come together in perfect balance with the most recent grape varieties of Syrah, perfectly adapted to this territory.
In cellar
The grapes are harvested at perfect maturation, and maceration lasts for 40 days. After a first decanting, the wine is placed to sharpen in steel tanks for a few days, and then transferred to first-pass oak barrels, wich represent the highest selection of woods, called "coeur selection". Ageing in barrique lasts for 12 months. The evolution ends with an ageing in bottles that lasts until optimal maturity.
Tasting notes
Intense red color with purple shades. The perfume is elegant with persistent mineral, balsamic, floral and fruity notes such as jam and blackberry. Bouquet is complete with spicy notes and cocoa notes resulting from aging in oak barrels. In mouth is very large but at the same time supported by a balanced acidity and good flavour, with notes of dried prune, vanilla and chocolate. The ending is long and intense enhancing the soft tannin.
Plus
Solana was born as a tribute to the historic owner of Premiata Fattoria di Castelvecchi, Marquis Abelardo Gutierrez de la Solana, who helped to make this territory famous for the quality of his wine, enjoyed in Italy and abroad, more than a century ago.
Pairings
Excellent as meditation wine, perfect pairing with red meat as boar or lasagne with truffle, meat and mushrooms.
Formato bottiglia
0.75
Grado alcolico
14,5% by Volume
Contenuto in solfiti: 80 mg/l (-47% legal limit)
Zuccheri: 0,5 gr/l
Acidità: 6.5
PH: 3.48
Nome vigneto: Giardino, Poggione
Collocazione: Radda in Chianti, Località Castelvecchi
Sesto d'impianto: 3m x 1.2m -2.5m x 0.8m
Anno d'impianto: 1950-2000
Ettari: 6
Densità: 2700- 5000
Resa: 50 - 65 q/Ha
Bottiglie prodotte annue: 1500