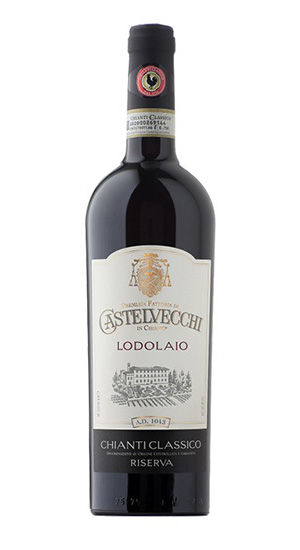 Chianti Classico Riserva "Lodolaio" 2018 Docg
In vineyard
Lodolaio is born from Sangiovese grapes obtained from reproduction by mass selection of vines of ancient origin, a true corporate heritage, in a soil characterized mainly by galestro and alberese.
The year 2018 was characterized by constant heat, without excessive peaks, which helped the ripening of the grapes. The excellent summer and the accentuated temperature range created an ideal climate for the production of wines with high aromatic profiles and with excellent acidity. A vintage that, more than others, will enhance the characteristics of Sangiovese, with anthocyans, polyphenols and varietal perfumes of great uniqueness and concentration.
In cellar
Maceration occurs in concrete tanks for 35-40 days. The wine, after a first decanting, refines for 12 months in new french oak barrique. After a passage in steel tanks, the wine is bottled and ages until the perfect maturity level is reached.
Tasting notes
Bright red color with purple reflections. Fresh scent, complex with intense fruit reminiscent of the scents of red berry fruit such as cherry, currants, blackberry and raspberry. The spicy notes lead back to licorice, cloves, cinnamon, pepper and dark chocolate with a vanilla finish. The taste is warm and enveloping with elegant tannins.
Plus
Elegant Bouquet. Wine of great balance, meditation wine.
Pairings
Indicated to accompany dishes of red meat braised or cooked and game. Try it with Fiorentina steak or with Pecorino Gran Riserva cheese.
Taste at 18°C
Formato bottiglia
750 ml
Grado alcolico
14% by Volume
Contenuto in solfiti: 80 mg/l
Zuccheri: 1 gr/l
Acidità: 5,5
PH: 3,45
Nome vigneto: Ontani - Giardino
Collocazione: Radda in Chianti loc. Castevecchi
Sesto d'impianto: 3 m x 1,2 m - 2,5 m x 0,8 m
Anno d'impianto: 1950 - 2000
Ettari: 6
Densità: 2700 - 5000
Resa: 50 q/Ha - 65 q/Ha
Bottiglie prodotte annue: 12000