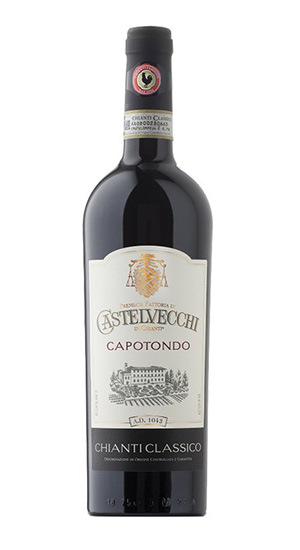 Chianti Classico Docg Capotondo 2017
Awards
Chianti Classico Capotondo 2016 – GOLD MEDAL at Gilbert & Gaillard Guide 2019
Chianti Classico Capotondo 2015 – 90 Points Gilbert & Gaillard Guide 2018
Chianti Classico Capotondo 2014 – Gold Medal + Champion in its category + Regional Champion at the Rodeo Uncorked International Wine Competition 2017, Texas
Chianti Classico Capotondo 2014 – Score 90 in the Gilbert & Gaillard wine guide & international competition (FRANCE)
Chianti Classico Capotondo 2014 – Score 90 in Wine Enthusiast wine magazine (USA): "Aromas of wild cherry, raspberry, rose, grilled herb and a balsamic note follow through to the firm palate along with fresh mint and orange zest. Fine-grained tannins and fresh acidity support the juicy flavors".
Chianti Classico Capotondo 2014 – SILVER MEDAL (score: 91) at Decanter Asia Wine Awards 2016
Chianti Classico Capotondo 2014 – 1° at Radda nel Bicchiere 2017 wine tasting (ITALY)
In vineyard
Sangiovese 88% and Canaiolo 12%, in perfect harmony, a combination that represents the territory with all its ancient history, the absolute uniqueness of natural environments transformed in the centuries by the hand of man, the secrets of the cellar passed down from generation to generation. "Capotondo" represents the authentic interpretation of Chianti Classico according to Premiata Fattoria di Castelvecchi: a perfect balance between fragrance and softness, between fruit and structure. The Year 2015 was characterized by a very warm and dry summer, with rain
concentrated in August. This heat has helped to create wines full of body, exalting perfumes and floral scents. The harvest was excellent, thanks to the high temperatures all the vineyards reached perfect ripening. Harvest began on the 1st October and ended on the 26th October, with separate harvest to achieve the best from each cru.
In cellar
The grapes are collected and carefully selected. Maceration is medium duration and lasts for 25/30 days. The wine is then placed in steel tanks until the month of December, after which it takes a step into a large barrel and barrique of third or fourth ride for 10-12 months, allowing for the ripening of tannins. It follows an ageing in bottle for 8 months.
In tasting
Red colour laden with pleasant purple tones. Good body, good acidity and freshness, with prevailing floral notes, hints of red rose and violet. The scents of red fruits prevail, with mature fruit trends as the red fruit, blueberry, cherry and plum, slightly spicy. A wine of great harmony, typical and balanced, of great character.
Plus
A distinguished personality that exalts the altitude of Castelvecchi, situated between 400 and 600 meters above sea level. A wine that promises to evolve sublime over time, expressing a great longevity. Perfect for all meals, great drinkability.
Pairings
Wide wine, excellent for all meal and to accompany first tasty dishes, baked red meat and cheeses of medium maturing
Try Chianti Classico Capotondo pairing with Fettuccine Alfredo, find the recipe here!
Bottle size
750 ml
Alcoholic content
13,5% by Volume
Sulfites: 80 mg/l
Sugars: 0,5 gr/l
Acidity: 6,2
PH: 3,42
Vineyard: Colle Petroso - Ciliegio - Vigna Maggio - Corto
Placing: Radda in Chianti loc. Castelvecchi
Planting: 2,5 m x 0,80 m - 2,80 m x 1 m
Planting year: 1990-2008
Hectares: 11
Density: 3500-5000
Yield: 65 q/Ha
Bottles produced per year: 60000