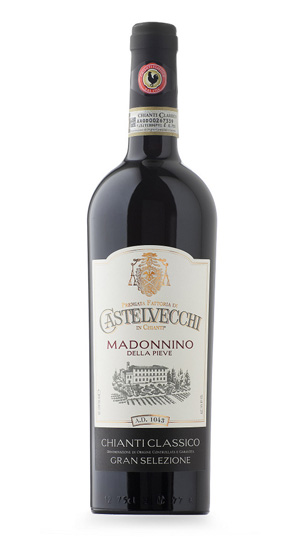 Chianti Classico Gran Selezione "Madonnino della Pieve" 2016 Docg
In Vineyard
Madonnino Della Pieve Chianti Classico Gran Selection, is born from Sangiovese grapes in purity, cultivated in the vineyard called Madonnino, which extends across the church of Santa Maria Novella in Castelvecchi. This Vineyard, among the oldest of Castelvecchi, and recognized also in the first land registry of Chianti Classico, offers exceptional bunches which, wisely managed produce the extraordinary complexity of an unforgettable wine. The 2016 vintage was characterized by perfect phenological phases and a very balanced plant activity, this allowed to reach a very high level of quality.
In cellar
The grapes are harvested through multiple collections at perfect maturity, the different portions are vinified separately and maceration lasts for 40 days. Madonnino Della Pieve is aged for 42 months, of which 24 in young french oak barrique and 18 in big barrels. The ageing process goes on with the refinement in bottle for 10 months.
Tasting notes
Deep ruby red color, with precious maroon hues.
The perfume it's complex, with fruity notes that evolve into an interesting bouquet of spices, from vanilla to pepper. An expressive, complex and intriguing wine that shows an amazing balance, with a long and satisfying ending.
Plus
Maximum expression of the concept of Chianti according to the philosophy of Castelvecchi. Elegance, character and all the potential of Sangiovese in a single glass.
Pairings
Wonderful to accompany dishes of red meat and game. Try it with the traditional recipe of the "Peposo all'Impruneta".
Taste at 18°C
Formato bottiglia
750 ml
Grado alcolico
14,5% by Volume
Contenuto in solfiti: 70
Zuccheri: 0,5 gr/l
Acidità: 6,9
PH: 3,40
Nome vigneto: Madonnino
Collocazione: Radda in Chianti loc. Castelvecchi
Sesto d'impianto: 3 m x 1,2 m
Anno d'impianto: 1970
Ettari: 3
Densità: 2700
Resa: 40 q/Ha
Bottiglie prodotte annue: 3000